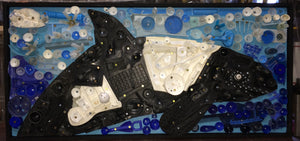 Ozzie the Orca
Ozzie the Orca
Made by:  Kricket Caffery, in Lakeside Oregon, 2019 (1 of 1)
Made from: Marine debris plastics, reclaimed wood
This piece was made as a reminder to pay attention to and change our consumer habits, remembering that the items we purchase, use, and throw away often end up in the environment causing damage to creatures and ecosystems that we all depend on. Refuse, Reduce, Reuse, Recycle.
How many things on this art piece do you recognize?
Zoom in and take a look, this is a fun game to play with kids!

Dimensions:  19.125" tall, 40" wide
Extra bonus: PegStilts.com will
donate
10% of the sale to the environmental cleanup org (SOLVE), IF it sells!
100% Zero Waste & 100% Handmade
Help PegStilts.com make a difference <3
---
We Also Recommend