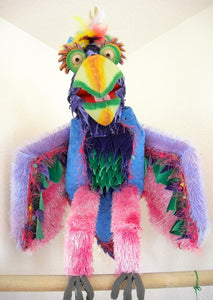 Parrot Puppet
This handmade Parrot Puppet is ready to come to life in your hands.
This bird has got so much personality already, all he needs is a voice.

The fabric used on the head, wings and tail is made from leftover pieces of reclaimed fabric from poi ball manufacturing, the rest of the fabrics are remnants as well.

The entire puppet is foam.
Operators arm is inserted under wings and into head.


Wings bend manually at the "elbow"
Legs bend at hips and knees
Feet are flexible and can be formed around a perch/arm/finger/shoulder
Mouth opens/closes
Eyes are fixed (non-moveable)
---
We Also Recommend