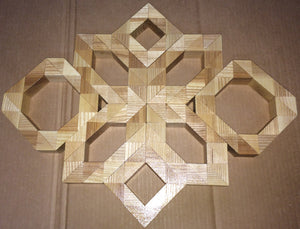 Wood Block Art - Snowflake
Wood Block Art - Snowflake
Approx 23" x 18.25" x 1.5"

Can be wall hung (hardware included but not installed) or can lay flat on table or shelf

Handmade from NEW ash wood leftover from making Circus Peg Stilts at PegStilts.com


NOTE:  If you're using this on a table as a pot trivit, I'd recommend using something between the product and any hot pots/pans/bakeware.


PEGSTILTS.COM ZERO WASTE PRODUCT LINE
Inevitably leftover materials are generated in the process of manufacturing stilts, handstand blocks, costumes, and other creative products, but not all these leftover materials are actually waste.

As a matter of fact, most of the materials are perfectly good and could easily become other things, so Kricket started a Zero Waste Product Line to use the resources.

PegStilts.com Zero Waste Products have been created to decrease the amount of wasted but otherwise good resources generated at PegStilts.com, OR were left in the environment as litter and debris polluting ecosystems.  This product line decreases costs here, and lessens PegStilts.com's impact on the planet elsewhere.
Protecting the planet and using everything to the fullest extent possible is something that PegStilts.com takes great pride in incorporating into products and artistic creations.
Help PegStilts.com save the planet by buying sustainable handmade products, by using what you purchase as much as possible, and by limiting your footprint on the planet.
Thank you for supporting PegStilts.com Zero Waste Product Line.
Together, WE can make a difference for tomorrow.
---
We Also Recommend